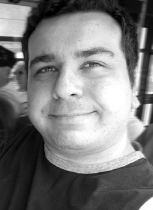 What do you do?
I am a senior software engineer/architect, working in Javascript (previously Ruby on Rails), doing all things internet. Yes, I'm fully buzzword compliant and looking for interesting work. Please see my cv/resume for details.
Are you allowed to work in the US?
Yes, I'm a permanent resident. So no extra paperwork.
Where are you from?
I was born in a city called Coventry, England. Home of Lady Godiva and no, I don't know how to or have any desire to ride a horse.
After studying and receiving my BSc in Computer Science in London and working there for some time, I was fortunate to be given the opportunity to move to Chicago. From there I moved to New York where I worked on Wall Street.
Having experienced the chilling Midwest winters and the smelting East Coast summers and always having a curiosity about the West coast, moved to the SF Bay Area (California).
After immersing myself in Silicon Valley's entrepreneurial and tech scene, I thought I would try something in-between the East and West coast.
I headed to the Rockies and now living (and enjoying the snow and craft beer) in Denver, CO.
So far so good! :)